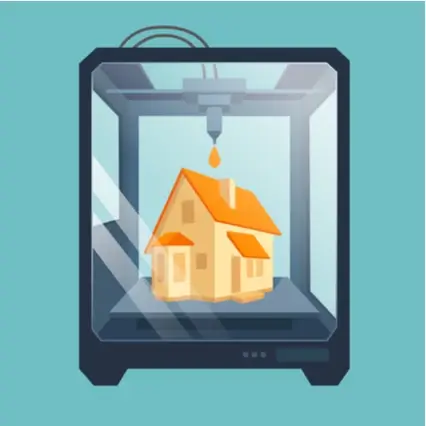 Having revolutionized everything from the auto industry to healthcare tech to the airline business, 3-D printing is poised to dramatically change the American housing market.
Lennar Corp., one of the largest U.S. homebuilders, has teamed up with Texas startup Icon to create an entire development near Austin with 100 3-D printed homes. This mass-scale project, set to begin in 2022, will be a test of the new technology's ability to produce quality houses in bulk quantity.
"We're sort of graduating from singles and dozens of homes to hundreds of homes," said Jason Ballard, Icon's chief executive.
Today, almost all new single-family homes are constructed on-site, using traditional building methods and wood framing.  However, a shift in labor choices over the past decade has pushed builders to consider more innovative options.
"Skilled tradesmen are a dying breed," said Eric Feder, president of LenX, Lennar's venture-capital and innovation unit. "So there have to be alternative building solutions to help with this labor deficit."
For printing a home's wall system, Icon only requires three on-site workers, compared to the six to 12 framers and drywall installers involved in a conventional build.
And instead of lumber, the 3-D printed houses from Icon use concrete, squeezed out in layers into molds, allowing for even curved walls and other designs often considered too complex and expensive to build. 
While it takes Icon roughly the same amount of time to print a 2,00-square-foot home's interior and exterior wall system as it does to frame it with traditional methods, the company hopes to speed up the process as it gains more experience. 
That would spell great news for the current housing market where housing demand has far outstripped available inventory for over a year. 
And theoretically prices could come down eventually as well. Using less waste and fewer materials, 3-D printed homes can be made cheaper than typical houses.
However, Lennar has not determined its pricing for the near-Austin development, and buyers are not likely to see a large discount from the average surrounding prices at this point. The builder will be completing the homes with traditional construction methods, which will add to the labor and material costs.
Icon has a proven track record of producing fully-functional 3-D homes, having built 10 two-bedroom homes in Tabasco, Mexico and seven one-bedroom tiny homes and four two-story single-family residences in Austin. 
It remains to be seen, though, if consumers across the country will welcome the concept and look of 3-D printed homes. For example, because of the layered printing technique, Icon's exterior wall and some interior ones include horizontal ridges that are not part of traditional homes.
And as a new, less-tested construction method, it is unclear if mortgage lenders will require any different qualifications or terms on 3-D printed homes. 
Still, demand appears to be strong among early-adopters. Another 3-D construction company, Oakland, Calif.-based Mighty Buildings already has a long wait list for its 15-lot community slated to break ground in southern California next year. 
Only time will tell if our American landscapes of Brownstones, Cape Cods and Craftsman homes will soon be replaced with these space-age technology dwellings.