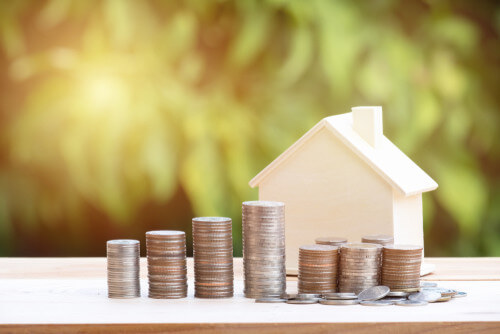 With the housing market on fire, home prices have steadily risen for the past several years. The result has been an enormous amount of home equity for American homeowners. In fact, according to mortgage data firm Black Knight in the second quarter of 2021 U.S. homeowners held a collective $9.15 trillion in usable equity.
"U.S. homeowners with mortgages gained another $1 trillion in tappable equity in the second quarter alone," says Ben Graboske, Black Knight's president of data and analytics. "This is by far the strongest growth we've ever seen and equates to some $173,000 in equity available to the average mortgage holder, a $20,000 increase in just three months."

At the same time, long-term mortgage interest rates have remained around 3%, near historic lows, making it inexpensive to refinance as well.

That has resulted in a rush of cash-out refinance loans. There were 1.1 million such mortgages made in the second quarter, the fastest quarterly pace in almost 15 years.

Should You Tap Your Home Equity?
Maybe this data is getting you thinking about a cash-out refinance. With so much equity and low rates, it might be the perfect time to pull out some money for that kitchen remodel you've been dreaming about, or for seed money for your business idea, or even to pay off student loans or other high-interest debt.

A cash-out refinance could help with any of these plans. First you need to calculate how much equity you have. Subtract how much you still owe on your mortgage from the most current estimate of your home's value. (This has probably gone up since you bought it.) Most mortgage lenders will allow you to tap only a portion of your equity. They want you to still have at least 20% equity left in your home after your refinance. For example, if your home is now worth $350,000 and you only owe $200,000 on your mortgage, you would be eligible to borrow up to $80,000 in equity.

Before you run to your mortgage lender, however, remember that every home loan requires costs and fees. You need to make sure that a new loan is worth the upfront cash you'll have to pay. Closing costs can range from 2% to 5% of the loan total, so if you take out a new mortgage for $280,000 you could end up paying between $5,000 and $14,000 just to make the loan. Those can sometimes be rolled into the loan balance, but you are still responsible for them one way or another.

There may be other situations where a cash-out refi is not a good choice for you. You may not want to tap your equity with a cash-out refi if your interest rate is already lower than the going rates today. Many people capitalized on rates near 2.5% at the end of 2020 and it may not make sense to pay more for a new mortgage. In this case, borrowers may be better off opting for a home equity loan or a home equity line of credit. These are secondary loans that use the equity but do not affect the interest rate of your main mortgage. You could borrow what you need and pay it off as quickly as possible to minimize interest fees.

If you crunch the numbers, however, and a cash-out refinance works well financially, the good news is that interest rates are lower on mortgage loans than on almost any type of loan and your equity is likely to keep rising over time. Give us a call today, a quick chat with us could help you figure out if a cash-out refi is right for you.