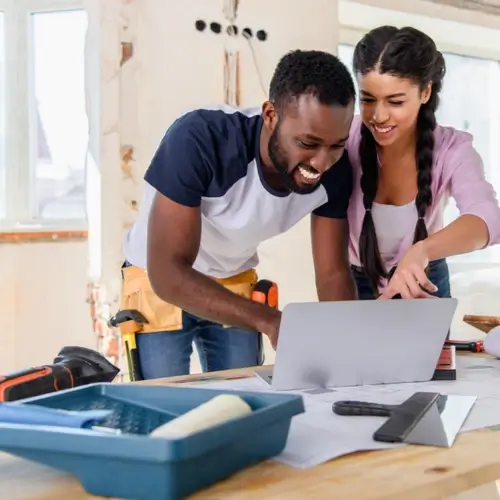 Today's housing market remains hot, with soaring sales prices, even as mortgage interest rates have almost doubled in the past year. Those factors combined with very limited inventory make it difficult for many would-be buyers to get a foothold in homeownership. For those serious about breaking into the market, a renovation loan may be the ticket to overcoming all those bidding wars.
A home renovation mortgage can allow you to buy a home that would be perfect if not for its list of serious repairs required to make it livable. These initially less-desirable homes often scare off buyers because of the added cost and hassle of fixing them up. If you are willing to deal with these issues, you may be able to score a good deal and finally begin your climb on the property ladder.
What is a Renovation Loan?
If you are buying a fixer-upper and do not have extra cash on hand for the repairs, a renovation mortgage is a special loan that lets you borrow money to pay for the sale of the house as well as funds for the renovations. 
How Do They Work?
The amount that can be borrowed will be determined in part by how much your home will be worth AFTER the renovations are completed. In fact, these are the only types of mortgages that give homeowners credit for the future value of the property. This means you will be able to borrow more than you would with a personal loan or even a home equity loan because renovation loans let you tap your future equity.
What Types Are Available?
Plenty of different renovation loans are available through various channels. There are specific mortgages for conventional loan purchases, jumbo loans, USDA, Fannie Mae, and FHA loans. Each has its own set of requirements, but in general they all stipulate that the funds must be used on non-structural home repairs and any renovations must add real value to the property. (if you have any questions about what adds value, your real estate agent and your lender will probably have a list for you.) While Fannie Mae HomeStyle renovation loans might be better suited for those with good credit, the FHA 203(k) and the USDA 504 Rural Development Home Repair Loans allow for less-than-perfect credit scores. Each loan program will have its own borrowing limits and terms.
So as available homes become harder to come by, a renovation mortgage could allow you to scoop up an overlooked property and turn it into the most desirable home on the block, hopefully gaining you quick equity. This gives you options to either stay if your repairs have made it worthy of a forever-home title, or to sell in coming years to cash in on all that equity to pay for your next, upgraded house. With the help of a renovation loan you can beat the current market conditions, and start down the path of homeownership.
These materials are not from HUD or FHA and were not approved by HUD or a government agency.